Trends in façade design: Office and Multifamily
People of all ages continue to move into multifamily communities, requiring developers to meet a range of needs. Kawneer delivers systems and solutions that offer the performance, aesthetics and sustainability required by today's multifamily applications.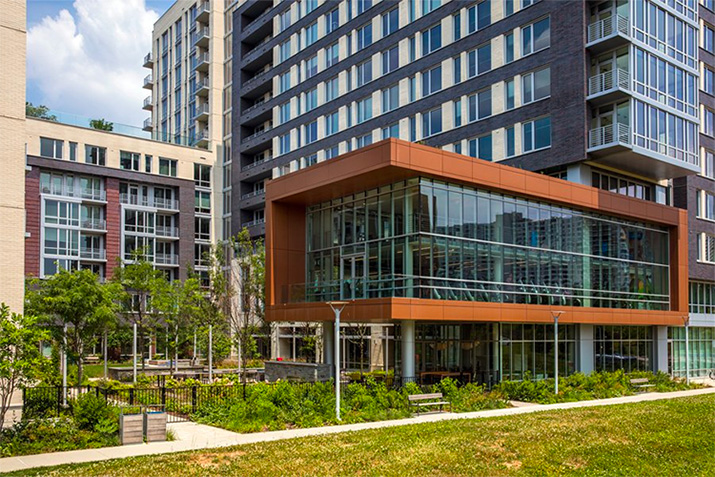 Podcast Outlines Productivity Benefits of Window Shades
| | | |
| --- | --- | --- |
| | | While reducing energy costs continues to be a major factor in the specification of window shades, more architects and designers are now using shades for a much different reason. "Energy savings is definitely a big part of window shades but we're seeing more and more discussions about occupancy comfort and workroom productivity," said Jeff Miller, LEED®AP, solar control product manager for Draper, Inc. |
How to Make Your Commercial Planters Last Longer
| | | |
| --- | --- | --- |
| Investing in commercial planters is no small undertaking, and so the goal is always to get planters to last as long as possible. First and foremost, buying the right planters made from long lasting materials will make a huge difference in how long your planters last. In this article, we will go over the best material for planters that outlive the competition, as well as things you can do to make just about any commercial planter last longer. | | |
Creative Option: Removable Skylights
| | | |
| --- | --- | --- |
| | | Hospitals and medical centers have found a unique way to utilize removable skylights by placing them over equipment like MRI machines that are too large to move and occasionally need to be serviced. In these applications, the skylight, or a portion of it, is simply removed and workers are provided with easy access to the machinery. |
StonePly Textures & Finish Options
| | | |
| --- | --- | --- |
| StonePly, world's leading producer of lightweight natural stone panels, provides natural stone that is lighter, stronger, faster to install and offers greater design freedom. StonePly offers a wide variety of textures, finishes, and edging options for stone. See how each option can put a unique spin on your project's stone panels. | | |
Lead alternatives: innovating the radiation shielding industry
| | | |
| --- | --- | --- |
| | | An area where material science is advancing the field of radiation shielding is in the development of non-lead shielding materials. Lead is used today because it's cost-effective, easy to work with, and most importantly has the ability to reduce gamma radiation. One drawback of lead is that it is a toxic substance if ingested into the body. Given the toxicity, innovations are being made to produce thinner, more flexible and effective non-lead shielding solutions. Specifically, polymers are being utilized for their material properties. They are infused with tungsten and other metals to produce a new generation of shielding products. |
White aluminum cable railing
| | | |
| --- | --- | --- |
| This Bay Area home had recently undergone a yard and deck renovation to update the outdoor space into something more modern and open. The customers wanted a railing solution that fit this contemporary theme while maintaining an open view of their newly landscaped yard. | | |
Louver and Architectural Solutions
Designed to provide superior performance and great aesthetic appearance, Ruskin® louvers are backed by experienced engineers and reflect Ruskin's commitment to high quality product standards.
AECinfo.com - Your Source of Building Products Information