Glass Railing Building Codes
One of the most important things to consider when installing glass railings is the building code for your area. If you are planning to install your eGlass Railing™ system yourself, knowing the building code for your project will help you to avoid costly repairs in order to be in compliance. It can be a challenge trying to figure out what codes and standards to follow, as there are codes that address fire and electrical hazards (NFPA), codes that relate to work environments (OSHA), and codes that address accessibility for persons with disabilities (ADA), as well as model building codes (IRC and IBC) and local building codes.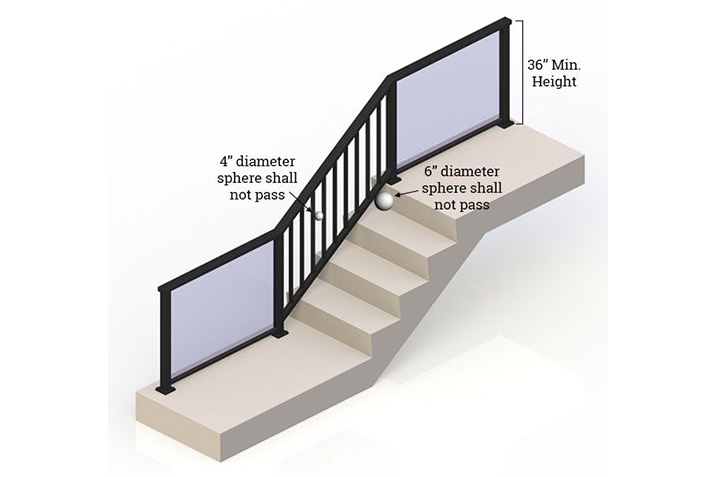 Fiberglass airflow control products are ideal for installations in corrosive environments
| | | |
| --- | --- | --- |
| | | Constructed of premium vinyl ester resins, Ruskin's fiberglass airflow control products are ideal for installations in corrosive environments. |
HEALTH ZONE Ceilings contribute to improved indoor environmental quality (IEQ) for every healthy space
| | | |
| --- | --- | --- |
| Made for healthcare, but ideal for every healthy space, go-anywhere HEALTH ZONE ceilings contribute to improved IEQ. Combine exceptional acoustical performance, sustainability & functionality with 1 ceiling system that's durable & aesthetically pleasing. | | |
Product Spotlight: ViuLite® Integrated Blinds
| | | |
| --- | --- | --- |
| | | If you love the look and utility of Venetian blinds but can't stand cleaning them or dealing with damaged slats, check out Unicel Architectural's ViuLite® integrated blinds. ViuLite® is a system of ScreenLine® integrated blinds permanently and hermetically sealed within a double- or triple-glazed insulating glass unit. ViuLite® ensures protection against dirt, germs, weather conditions, and damage, while offering an aesthetically pleasing design element that provides enhanced solar shading and variable vision control. |
Carnival™ Dual Litter receptacle: a trash can and recycling bin all in one package
| | | |
| --- | --- | --- |
| The Carnival™ Dual Litter receptacle is a great option if you're looking for a trash can and recycling bin all in one package! Its classic look means that it will look great anywhere! | | |
Choosing Bulletproof Drywall And Ballistic Panels
| | | |
| --- | --- | --- |
| | | No ballistic barrier is complete without ballistic panels (often referred to casually as "bulletproof drywall"). That's because, although cinder block and brick will stop most common bullet calibers, standard construction drywall will not. In fact, a 9mm bullet will penetrate more than two dozen sheets of half-inch drywall and still be able to do harm. That bullet will likewise pop through several layers of plywood—and even through stacks of two-by-fours. |
Investing in High Quality Outdoor Planters
| | | |
| --- | --- | --- |
| Do you find yourself constantly replacing the planters every season? Investing in high-quality outdoor planters can save you money in the long term because you won't need to replace them as often, if at all. The best part of choosing LLDPE resin planters for outdoor applications is that they are highly durable and maintenance-free. Resin can mimic the look of other materials and achieve different styles from traditional to modern. | | |
Installing Detectable Warning Plates
Detectable warning plates are a type of tactile paving, designed to be "read" by those using a cane for guidance. They are a form of universal design, for their contrasting color and textures act as communication for all users of a space. Tiles with truncated domes were invented in Japan in the late sixties by Seiichi Miyake, and installed for the first time in 1967, outside a school for the blind. They have since been adopted worldwide, with basic installation standards to ensure that they communicate the same message to users the world over.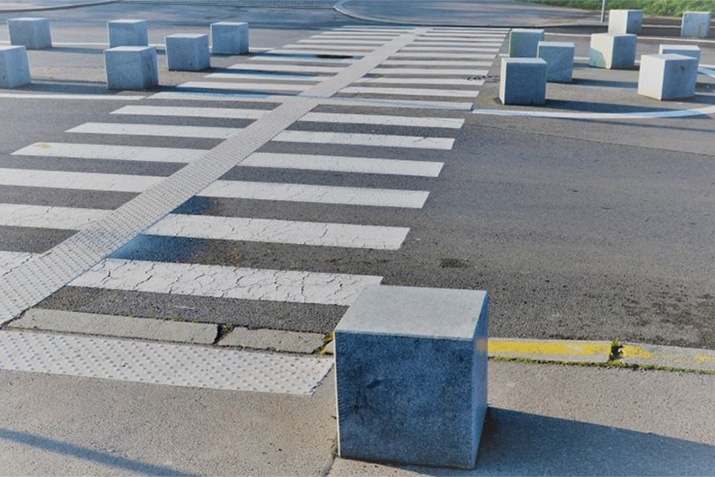 AECinfo.com - Your Source of Building Products Information